MUSIC IN CANCER CARE / MUSIC & MEDICINE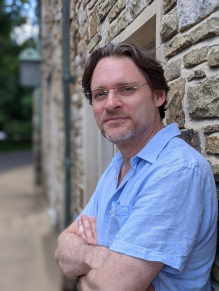 Dr. Ozmo's focus on the healing properties of music reflects the role that music played in his own family history, including his experiences as a refugee from the Bosnian war in the 90s. These experiences, combined with historical studies of the role that music plays in healing, music therapy training, as well as over twenty years of experience with the clinical applications of music, were channeled into a mission to bring the healing properties of music and sound to others through holistic and scientific means.
In 2019, he founded the Music in Cancer Care program based at the Methodist University Hospital in Memphis, TN, and is currently on the faculty at the University of Tennessee Health Science Center where he is developing and leading a clinical academic program that applies music and sound to the treatment of cancer and other diseases. The program is based on a flexible clinical and experiential concept developed by Dr. Ozmo, with the view of extending it throughout the UTHSC's partner hospitals and broadening its scope to the wider Memphis community. 
The program draws on Memphis' diversity and rich musical traditions, and it brings together music, psychology, neuroscience, biology, and health sciences, among other disciplines. The initiative involves a network of the leading educational, artistic, and religious institutions, individual artists, and researchers from related disciplines in the city. The rapid expansion of the program's scope has led to the current plans to create a Center for Music and Medicine, from which Memphis-wide practical applications, clinical research, and teaching in this area will be coordinated.
Dr. Ozmo's writings have been translated into French, German, Spanish, and Korean, and appear in leading scholarly journals. Further, he frequently presents his research at conferences in Europe and North America and speaks on various related topics on BBC Radio 3 and NPR. 2019 also saw his first TEDx Talk ('Why Refugees are integral to the Future of Art'). and he is currently hosting and producing a monthly talk show titled Music and Medicine on WYXR Station at Crosstown. The show consists of discussions of the latest research on the intersection of music and medicine, and interviews with researchers and practitioners internationally from scientific,  historical, philosophical, and musical perspectives.
Dr. Ozmo's business, administrative, and fundraising experience, together with contacts within the international scientific and medical community, and international media contacts, further complement his skill set for this undertaking.